It's no secret. You work hard all day. Whether you put long hours in at work, are overwhelmed with homework, or the kids are keeping you up all night, we all need a break from time to time.
You deserve to set aside a few hours and dedicate them to yourself. And what better way to take care of yourself, than with an at-home spa day?
In this article, we're going to take you through the simple steps to plan and execute a complete spa day.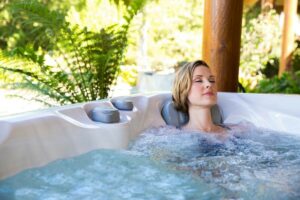 1. Set The Mood
Now that you've got the house to yourself, let's create a healing and relaxing atmosphere.
Light candles, preferably with eucalyptus and lavender scents
Add essential oils to your diffuser
Gear up a relaxing playlist
Use this time to gather any items you'll need for your rejuvenating spa day. This could include fresh towels, a face or hair mask, a nail kit, nail polish, fuzzy slippers, comfortable loungewear and a robe, hydrating lotion, and healthy snacks.
This is a great opportunity to create detox water. Your detox water could include a combination of ginger, mint, cucumber, strawberries, raspberries, basil, and/or lemon.
Add your favorite ingredients into a jug of water and refrigerate. Drink your detox water throughout the day to feel refreshed and recharged!
2. Have a Hydrotherapy Soak
If you have a hot tub or swim spa, now is the time to go for a soak. Gear up the powerful jets and allow your muscles to relax in the comfort of the jet-driven water.
A hydrotherapy session can prove to be a restorative experience, which is exactly what you're looking to achieve today.
Sit back and relax, as the healing properties of your spa bring you to a state of pure relaxation. Let your muscles relax and let go of built-up tension. Listen to some music, read a good book, or simply enjoy the time to yourself.
3. Take a Restorative Bath
Now that you've sweat out all the toxins and become completely relaxed thanks to your spa, it's time to clean up. Run a bath full of hot water and add your favorite bubble bath, Epsom salts, bath bomb, or essential oils, and hop in!
If you don't have a spa, use this time to relax as you would have earlier. If you did just get out of the hot tub or swim spa, focus solely on cleaning your skin and hair.
This is when you can really exfoliate your skin and clean out your pores, as well as pamper your hair with a mask or a high-quality shampoo/conditioner combo.
4. Skin, Hair, Nails!
Now that your muscles are relaxed, and you feel clean and rejuvenated, we can focus on the finer details.
Start by applying any face or hair masks that you have. While these masks are working their magic, you can turn your focus to your hands and feet.
Using any tools you have, you can remove dead skin, trim nails, clean cuticles, and smooth skin.
For the finishing touches, buffer your nails and add a clear coat of nail-strengthening polish.
Once your hair and feet are properly pampered, you can wash away your face and/or hair mask. Enjoy your silky-smooth skin, glowing hair, and polished nails!
5. Massage & Pampering
Are you on cloud nine? We thought you might be. Well, your day is about to get even better. Have your significant other give you a loving massage, complete with oils or lotions.
If you're having difficulty getting them to give you a massage, try one of the following tactics:
Begging
Pleading
Groveling
Trading for a massage of equal time
Begging some more
Making them their favorite snack or dish
Begging one last time
Blackmail
If none of the above work, schedule an appointment with your favorite massage therapist later in the week for an ideal spa day.
In the meantime, take a look at the rest of our blog for more information and tips about backyard living, hot tubs, swim spas, and more!
If you're thinking of investing in one of these therapeutic systems for yourself, visit us in-store.
One of our experts at AJ Spa & Hot Tubs would be happy to help you explore our spas for sale in Patchogue.