Hot tubs provide the ultimate way to relax and unwind any day of the year and have become a popular addition to backyards across the globe.
Many hot tubs are installed outdoors, exposing them to the elements and constantly fluctuating temperatures.
Not only that but oftentimes, backyards aren't equipped to maximize the privacy of your hot tub, leaving you exposed to prying eyes while you enjoy a quick evening soak.
Hot tub enclosures are a great way to not only protect your spa long-term but also maximize the privacy of your spa, ensuring you can enjoy every session without unwanted interruptions.
If you want to elevate your backyard oasis by adding a hot tub enclosure around your spa, this article is for you.
Below, you'll find some of the best hot tub enclosure options, along with some tips and tricks to elevate them even further.
9 Best Hot Tub Enclosures for 2023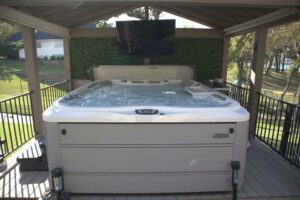 1. Gazebos
Possibly the most popular hot tub enclosure that comes to mind is a gazebo.
These stunning backyard additions are a powerful way to protect your hot tub from the elements.
With their peaked roofs, they'll keep rain and snow from falling in the water as you soak, minimizing any debris that contaminates entering your spa while also ensuring you have the most relaxing session.
Gazebos are also a great way to bring everyone together.
Due to their size, you can easily include seating options alongside the hot tub or even include a built-in bar for when you host events.
Elevate it: Gazebos are easy to customize, adding elegant lighting to hang from its roof or constructing a living garden to close off one of the open sides.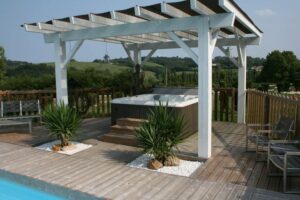 2. Pergolas
If you don't want a completely closed-off enclosure and want to enjoy your surroundings, a pergola is a great solution.
With its exposed ceiling, you'll be able to enjoy the warm rays of the sun as you soak in your spa.
Pergolas also offer ample customization opportunities due to their size and shape. With their strong, sturdy legs and exposed top, it's easy to put unique touches on this enclosure.
For example, if you want privacy but don't want to lose your view, you can install floating windows that cover only the sides of the hot tub you'd like.
Not only would this give you more privacy, but the windows allow you to enjoy the view anytime you want.
Elevate it: Dress your pergola up with an elegant set of white curtains and some hanging plants. Not only will you be able to pull the curtains closed for maximum privacy, but you'll easily create the feeling of a high-end resort every time you step into your spa.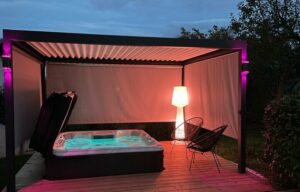 3. Retractable Privacy Screens
Do you want an enclosure but prefer to have some flexibility with how your backyard looks?
Retractable privacy screens are the best way to accomplish this.
Not only can you easily pull them down to enclose your hot tub completely, but you can quickly open them and tuck them out of sight when you want full visibility.
If you're worried about your backyard looking cluttered or cramped by a large hot tub enclosure, adding retractable privacy screens around a lightweight frame can ensure you get the privacy you need without losing space in your yard.
Elevate it: Not all retractable privacy screens are made the same, and with many revealing stunning prints and portraits, you can create a luxury escape every time you draw the shades!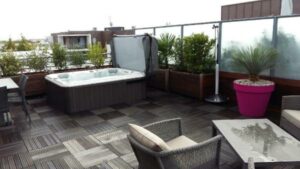 4. Screened Patio
If you've installed your hot tub on your patio and want to enhance its privacy, adding some glass or mesh screens around one or two edges can help meet that need.
Not only are these stunning additions to your backyard, but they can be relatively inexpensive compared to some of the other options on the market.
Better yet, you'll have a wide range of selections, from textured or frosted glass to unique panel designs that allow you to open and close certain areas when desired.
Elevate it: Due to their design, adding plants to your screens, especially if they're glass, can be a great way to add some elegance and color around your spa.
Better yet, hang some lights on the opposite side of the glass to give you a beautiful diffused ambiance during your next evening soak.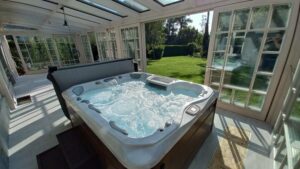 5. Sunrooms
If you have a sunroom that's going largely unused or have been considering adding a small extension to your home, this is the perfect hot tub enclosure space.
Not only will it give you plenty of light for your daytime spa sessions, but also locks in heat, maximizing your heat retention during the winter months to keep energy bills low.
With all the windows, you'll have unobstructed views, allowing you to soak in peace as you watch the rain falling outside the windows.
Elevate it: To bring this space even further, add some curtains to increase the privacy when you need it, or include a wicker patio set to enhance your social gatherings.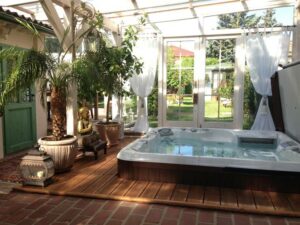 6. Temporary Solarium
Don't have a sunroom attached to your house or the space for an indoor installation?
No problem!
Adding a temporary solarium is an easy way to achieve the privacy you want without a permanent fixture.
Not only will this give you maximum flexibility should you decide to move your hot tub in the future, but it will give your spa added protection, keeping rain and snow away from your hot tub.
Elevate it: To maximize privacy, opt for tinted glass. This will protect you and your water from the harmful UV rays from the sun while also giving you peace of mind without completely obstructing your views.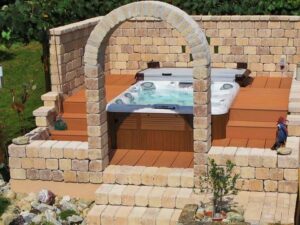 7. Stone Walls
If you have the space in your backyard, adding a stone structure can be a great hot tub enclosure.
Not only does this add an elegant flare to your backyard, but it also protects you from prying eyes each time you step into the water.
With so many styles of brick, it's easy to find one that suits your aesthetic.
For example, for a moody yet modern style, you could tuck your spa away in a corner with two dark grey stone walls adding privacy.
On the other hand, you could use one of the walls of your house and close off one other side with an elegant brick to match, creating a natural transition from your home to your hot tub enclosure.
Elevate it: Add some vibrant colored fairy lights to add some ambiance during the evenings, or include big stone steps to make getting in and out of your hot tub easy.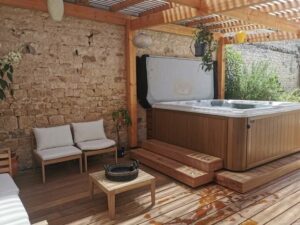 8. Below a Raised Deck
If you have a raised deck in your home, you already have the perfect start to your hot tub enclosure.
Installing your hot tub directly below will give you maximum protection from above, ensuring any multi-story home nearby can't get a peek into your hot tub.
Not only will you be making better use of previously unused areas, but adding a plant-draped lattice or a privacy screen is a cost-effective way to finish your enclosure without spending much money.
Elevate it: Make it effortless to enjoy your outdoor space by hanging strings of faux ivy on the added lattice, or include a weatherproof sound system on the underside of your deck.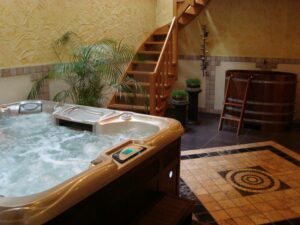 9. Indoor Installation
Above all, the ultimate hot tub enclosure is simply installing your spa inside!
Not only does it give you complete privacy, but your spa will be fully removed from the outdoor elements.
The fluctuating temperature of each season won't affect your heat retention, and your cabinet won't be exposed to rain or snow throughout the years.
Best of all, enjoying a luxurious soak will never be easier than when your hot tub is installed indoors.
Hot Tub Enclosures Are Powerful Additions
Whether you want to maximize privacy, increase heat retention, or simply protect your spa from the ever-changing weather, hot tub enclosures are the perfect solution.
With many cost-effective options on the market and ample upgrade possibilities, finding one to fit into your budget that compliments your backyard space won't be a challenge.
From gazebos and pergolas to solariums and patios, there are plenty of opportunities to boost the appeal of your spa and recreate your soaking experience.
Hot Tubs for Sale in Patchogue
Whether you're looking to update your existing spa or are ready to take the plunge and add one to your backyard, AJ Spa & Hot Tubs has everything you need.
Our showroom is filled with top-of-the-line spas at a variety of price points, ensuring everyone can find a hot tub that fits within their budget.
Visit our showroom to explore your options in person, or contact us, and one of our experts will be happy to assist you over the phone with any of your hot tub needs.