For many people, when they think of a hot tub, it brings back fond memories of being on vacation in a hotel with fantastic room service, and at the end of the day, sitting back and letting the jets ease built-up tension and help them to relax.
But then, when you get back home, you miss the sensation. Why should these luxurious water features only be used when at a hotel or on holiday?
If you're considering investing in a hot tub, you should know that there is so much more you can do than just sit and soak. In this article, we're going to cover five fun hot tub activities for hot tub owners to do in their very own spas.
Benefits Of Owning Your Own Hot Tub
It can be as easy as just contacting a local hot tub seller and getting a quote on the best hot tub prices around so you can select the one that is most suited for your needs. They don't have to be just round or square, and some can even be big enough for you to walk around in!
Add in a few basic hot tub accessories, and your spa can become the deluxe vacation package that you have been craving all day long! How incredible is that?
Now, let's dive in and take a look at five of the best hot tub activities to do in your spa!
5 Fun Hot Tub Activities To Do In Your Hot Tub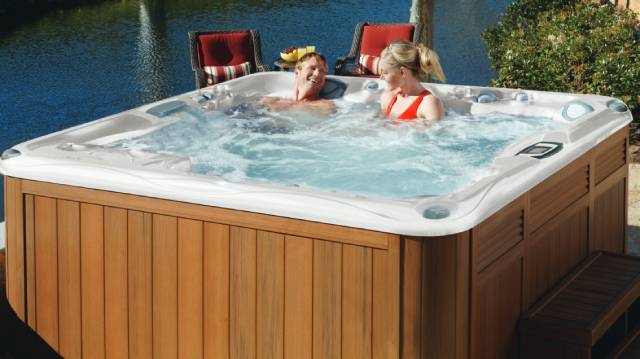 1. One Of The Best Ways To Unwind!
Picture this: you just got home from work, stressed out, and needing five minutes to yourself before you have to deal with emails, chores, or family demands.
Just stop by the refrigerator on your way out, grab yourself a cold drink, strip down, and slip into the bubbling happiness that is your own personal hot tub.
Sit there as long as you need and when you feel refreshed, only then do you face the world – but on your own terms. What an amazing way to treat yourself with the time for self-care that you deserve!
2. Catch Up On Your Reading
Believe it or not, there are some who find getting lost a good book to be one of the best ways to relax.
What better pairing than to let the jets ease those knots in your back while absorbing the latest Sci-Fi thriller you have been dying to read? Just be careful that you don't drop it in the water!
3. Getting Mellow And Zen
Did you know that deep breathing and meditation are known methods for effectively treating stress?
When the stars come out, and the neighborhood is quiet, slipping into your hot tub and staring up into the sky while letting go of the day can be one of the most therapeutic methods of eliminating unnecessary tension in your life.
4. Throw A Party!
Well, yes, this one is a given, but as many people know, owning a hot tub can make you the life of your social group. Pull out the grill, fill up the cooler with ice and beverages, light up some tiki torches, and call up your friends for a party night they will not soon forget!
5. Keep It Intimate
When your significant other starts to hint for some alone time, it is easy to pop open some champagne, put on some romantic music, and invite your partner to come unwind with you.
With the benefit of privacy, this intimate fiesta can go on through all hours of the night so you can give them the attention they have been craving.
Hot Tubs In Patchogue
As you can tell, there is no real limit to the amount of fun you can have from the hot tub activities that come from owning your own hot tub. If you would like to gather additional inspiration for that perfect night or would like to learn more about hot tubs, be sure to check out our blog.
With AJ Spa & Hot Tubs located in Patchogue, we can ensure you get the information you need to begin you on the path towards your own hot tub, a mini-vacation that you can indulge in as often as you desire.