Your backyard isn't just for barbecues and pool parties though a hot tub can boost your health.
It's your oasis, a place to relax, unwind, and escape the hustle and bustle of everyday life.
A well-landscaped backyard can increase your home's value, improve your curb appeal, and provide you with a retreat to enjoy for years to come.
When it comes to summer landscaping, there are endless possibilities. But where do you start?
Look no further if you're looking for some backyard summer landscaping ideas. We've got you covered, with everything from poolscapes to gardens.
No matter your budget, you'll find a summer landscaping project on this list that is perfect for you.
So, what are you waiting for? Grab your gloves and get to work making your backyard the neighborhood envy.
1. Start With a Plan
The first step to any successful landscaping project is to have a plan. Decide what you want to use your backyard for and list your must-have features.
Do you want a place to entertain guests? Do you need a space for kids to play? These will require different focuses and equipment, as well as different price points.
If you're unsure where to start, consider hiring a landscape designer. They can help you create a plan that fits your budget and your backyard needs.
2. Choose the Right Plants
Once you have your perfect plan set, look for the best plants for your backyard. When choosing plants for your summer landscaping, there are a few key things to remember.
First, consider the climate you live in. Select plants native to your area that can withstand the summer heat.
Think about the amount of sun and shade your backyard gets. Choose plants that will do well in the conditions you have.
If your yard doesn't have trees or sunshades, plants that don't require a lot of water and cool conditions are the best. If you live in a rainy area, get plants that thrive in humid environments.
Xerophytes are drought-ready plants. They can survive in dry conditions by storing water in their leaves, stems, or roots.
Some common xerophytes include cacti, succulents, and agave. These plants will limit the amount of water you use for watering and can also add to your backyard theme.
Once you've selected the right plants, it's time to start planting. Be sure to follow the instructions on the plant tag. This will help ensure your plants thrive in their new home.
3. Create a Multi-Functional Backyard
Creating a multi-functional space is one of the best ways to get the most out of your backyard. A multi-functional backyard can be used for entertaining, relaxing, and even working from home.
To create a multi-functional backyard, start by creating different zones. One zone can be for relaxation, with comfortable furniture and a fire pit. Since this is a relaxation zone, you can add things like power outlets to make the place as inviting as possible.
Another zone can be for entertaining, with a BBQ and outdoor dining area. This zone should be close to the house and not farther away to utilize the main house amenities like the kitchen.
A green lawn can create a play area for kids and pets. Open space will make your backyard seem larger than it is. If you have kids that use the yard often, consider adding a playground or sandbox.
And lastly, if you have space, you create a work-from-home zone with a comfortable chair and a small table or desk. This work area can overlook the green lawn to give you a refreshing area for your work.
4. Build a Pergola or Gazebo
Adding a pergola or gazebo to your backyard will give your yard a unique look. It will also provide shade on hot days.
A pergola or a gazebo is a great way to add some privacy to your backyard. In addition to entertaining guests, the space is suitable for other purposes. Pergolas and gazebos are great for shade areas, dining spaces, and relaxation spots.
5. Outdoor Kitchen
An outdoor kitchen is a great way to enjoy your backyard. As an entertainment tool, you can host parties there. You can go simple with just a grill, or elaborate with a fully-stocked kitchen if you have the power available to run it.
6. Add a Water Feature
Water features are a great way to add interest to your summer landscaping. There are many water features you can choose from, so you're sure to find one that fits your budget and needs. Some common water features include:
Ponds: Ponds are a great way to add wildlife to your backyard. A pond can also be used for fishing and swimming if it is large enough.
Fountains: Fountains are a popular choice for many homeowners. They come in various sizes and styles, so you're sure to find one that fits your backyard.
Waterfalls: Waterfalls are a beautiful addition to any landscaping project. It is possible to construct a natural-looking pond or fountain that features a waterfall effect
Adding fish and water plants can make your water feature stand out. The fish and plants will often depend on each other symbiotically. The plants utilize the waste from the fish as nutrients, and in return, the plants help purify the fish's water.
This relationship is called the nitrogen cycle and is essential for a healthy water feature.
One downside of water features is that they breed and attract insects, such as mosquitos. If you want a water feature as part of your landscape, plan how you'll keep pests away from your yard.
7. Go Solar
Since it is summertime, plenty of sunlight is available to harness as solar power. Solar power is a renewable energy source that can power your home, pool, and other backyard appliances.
Solar power is a great way to save money on your energy bill and help the environment, and the panels often look great when integrated with your landscape design. You can choose from:
Rigid panels: Rigid panels are the most common type of solar panel. These panels typically go on the roof of your home.
Flexible panels: Flexible panels are an excellent option for those who have a limited amount of space. Put them on the ground, on a fence, or on the side of your home.
Portable panels: Portable panels are great for those who want to move their solar panels around so they can have power wherever they go. RVs, boats, and campers often have these smaller panels as part of their design.
Utilize solar energy to illuminate your backyard. This will make your backyard especially inviting. It may also be a good idea if you decide to go the outdoor kitchen route, as you won't have to divert so much power from your main electricity source.
8. Collect Rainwater
Rainwater is a great way to water your plants and garden. It is a free, renewable resource. Rainwater is also better for your plants than tap water because it doesn't contain chlorine or other chemicals.
There are many different ways to collect rainwater. For example, you can buy a rain barrel or make your own. You can also install a rainwater harvesting system. Making your own water collection system will be cheaper than purchasing it, but it can be challenging if you don't have experience in construction.
9. Automate Your Irrigation System
If you have an irrigation system, it is important to automate it. This will help you save water and money. An automated irrigation system will turn on and off based on the weather. It will also adjust the amount of water it uses based on the type of plants you have.
You can buy an automated irrigation system or make your own. If you make your own, use a quality controller so that your system will work properly.
If you are using solar panels to power your backyard tech, the irrigation system will use the harnessed solar energy, reducing electricity usage.
10. Use Mulch
Mulch is a great way to conserve water and keep your plants healthy. It helps to prevent evaporation and keeps the soil cool.
Mulch also helps to prevent weeds from growing. You can buy mulch or make your own from organic materials such as leaves or grass clippings.
11. Put in Artificial Grass
While it may seem absurd, having artificial grass in your backyard can save you money and water.
Artificial grass doesn't need watering, and it doesn't grow. This means you won't have to mow your lawn.
Artificial grass is also great for those who have allergies, as it doesn't contain pollen or other allergens.
12. Use Paved Walkways
Paved walkways are a great way to add stylish appeal to your backyard. They save water by preventing water from evaporating. They also help to keep soil cool, which is vital if you have more delicate plants.
Paved walkways are easy to maintain, and they last a long time. In addition, since there will be less foot traffic off of the paths, your grass will stay healthy.
13. Make a Splash with a Hot Tub or Spa
Finally, one of the best ways to make your backyard classy and inviting is to add a hot tub or swim spa to the mix.
These are great for everything you might use your backyard for: entertaining, relaxing, or keeping kids occupied! Turn your backyard into an oasis with a bath that you'll love to use, all year round!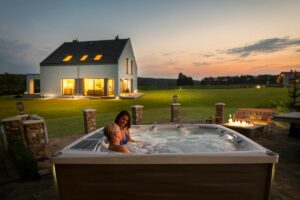 Summer Landscaping 101
Landscaping your backyard is definitely worth the time, money, and energy you'll put into the project.
While the initial cost might be high, especially if you are building a pergola or an outdoor kitchen, the long-term benefits are great.
Not only will you save money, but you will also have a beautiful backyard to enjoy.
The added value to your home is also a great benefit. If you ever decide to sell your home, your summer landscaping will add a lot of appeal to buyers.
If landscaping is a project that you want to take on this summer, there's no shortage of options and opportunities you can utilize to give your home a bright, exciting new twist.